SEASON 2023 | 2024
HERITAGE SEASON III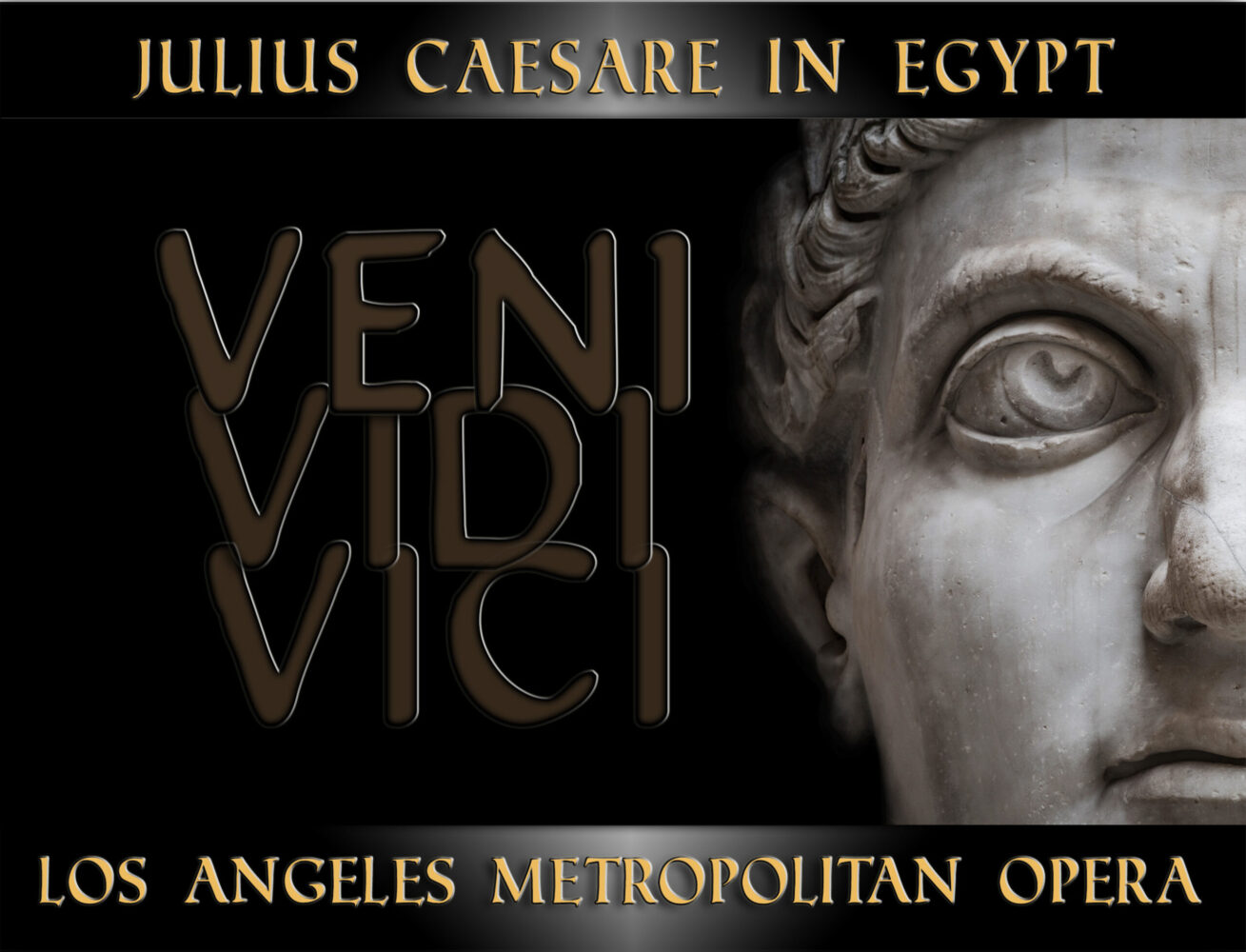 Giulio Cesare in Egitto
by 

G.F. Händel
Händel's very successful opera about twisted sibling rivalry and out-of-control ambition is timeless!
Join us for an incredible evening of music and drama as we present "Julius Caesar in Egypt" by the renowned composer G.F. Händel. This captivating event will transport you back to ancient Egypt, immersing you in the epic tale of Julius Caesar's thrilling adventures and his steamy affair with   Cleopatra, Queen of Egypt.
Step back in time and witness the mesmerizing tale of Cleopatra & Julius Caesar in ancient Egypt, brought to life by the genius of G.F. Händel and…..
Papageno Papagena by W.A. Mozart
Production Managers
Steven Moritsugu
Tammy Mora
Filming Location
Mount Olive Lutheran Church
1343 Ocean Park Blvd, Santa Monica, CA 90405
Producer/Director
Linda Jackson
Director of Photography/Editor
Steven Gonzalez
Audio Production
Charles Laurence Productions
Testimonials
From satisfied audiences!
Die Fledermaus ala Salsa! ~ J. Strauss II
Our HS concert band's trip to your show Die Fledermaus ala Salsa (the one that you scheduled specifically for us because there was nothing else going on in Southern California on that night of our trip) is to this day still a vivid memory for the kids in the band! The boy who got up and danced the salsa with you will never live it down – even though he's a senior this year. The kids all have fond memories and thoughts about opera because they saw a great performance live and up close.
Thank you so much for your commitment to the arts!
Barber of Seville ~ Rossini
Best Barber of Seville…..  EVER!
Ballo in Maschera ~ Verdi
Most beautiful  Ballo in Maschera I have ever seen!
La Boheme ~ Puccini
An amazing show yesterday.
This company puts on dynamic, thrilling performances that are 100% accessible and engaging.
Top quality talent having the time of their lives, and bringing the audience right along with them.
I had no idea I loved opera so much!
Thanks, Linda Jackson, for doing all you do.
This is the best kept secret on the westside.
Every one of these performers could step onto an international stage and bring the house down!!
If you want World class opera in an intimate setting….here's the company to attend.
Eric Castro & Linda Jackson: Aida Duet ~ Verdi
Experiencing Linda Jackson and Eric Castro's Aida and Amonasro at the concert was a slice of perfection.
Ethereal, heart wrenching, spellbinding, riveting, inspiring… I can't even find the proper adjective to describe the effect of those two voices ascending in that room.
If you missed it, you missed a wondrous performance.
That is all.
The Magic Flute
Best Queen of the Night EVER!
The Magic Flute
I LOVED The Magic Flute!  
I loved it so much… I saw it TWICE!!
Los Angeles Public Library Free Opera Performance: Hansel & Gretel ~ Humperdink
Linda Jackson deserves a United States of America Presidential Medal of Freedom for having a multi-ethnic cast.
Need I say more?
A WORLD OF THANKS (Los Angeles Public Library Free Concerts)
…to dear Linda & Company for your wonderful performances at the library.  
Here's to many more!  Lots of love and good wishes always!
p.s. I loved Aida, Don Carlo & Idomeneo!
Los Angeles Public Library Free Concerts
My friend was equally enchanted–we thought the selections were picked masterfully.
…we are looking forward to many of your future ventures.
Giulio Cesare in Egitto
"I never thought I could be so moved by Baroque opera — it's always seemed so ornate and rather cold before, but this had a beating heart and a quivering soul. We were so very moved. "
With Much Gratitude
Props to our Donors & Sponsors